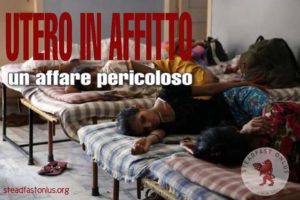 We showed you a video about 3 months ago, where you could see many children, born by a surrogate mother, who had been housed in a hotel in Ukraine since the lockdown due to the pandemic had not allowed the purchasing families to pick them up.
Surrogacy in Italy is prohibited and punished by law but unfortunately in many states it is not, so with this trick it is not possible to seriously prosecute those who go abroad for this practice.
To date, it appears that the ordered newborns have all arrived in Italy but, so far, many birth certificates have not been transcribed from the Italian registries.
Some couples were denied transcription because the sex of the child was not indicated in the birth certificate in Ukraine, others were denied because the client mother, not being present at the time of delivery, must declare that she turned to the surrogacy, but must prove it with the dna test.
It is clear that international legislation on the subject is needed to prevent this practice from becoming in common use, in the meantime we will continue to denounce these cases and move public opinion.
Emmanuele Di Leo